Posted on Sun Jun 9th, 2013 2:15pm PDT By X17 Staff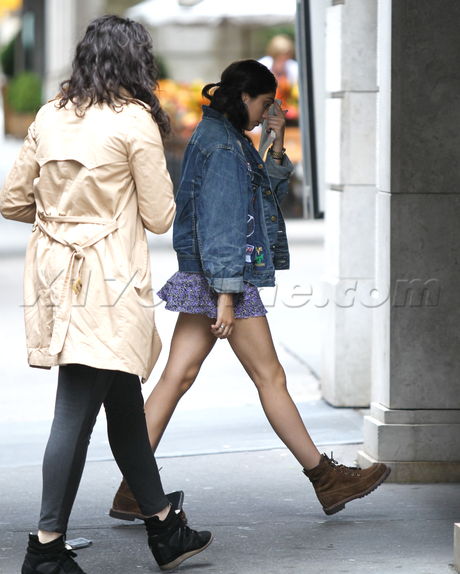 It's never been more evident that Lourdes Ciccone Leon is the splitting image of her mom Madonna.
Madge and her large brood strolled the streets of New York City yesterday. The singer and her boy toy Brahim Zaibat spent quality time with Lourdes, Mercy, and Rocco, who all donned some interesting getups. The Material Girl covered herself with plenty of fabric, wearing head-to-toe black. She kept a low profile in loose linen pants, a fedora, and over-sized shades. She added some patterns to the outfit with a leopard print trench and layers of scarves.
Her oldest daughter, on the other hand, dressed like her circa the 1980s. She braved the New York breeze in a short, purple floral dress and loose fitting vintage denim jacket with badges. She even rocked a pair of '80s Timberland-inspired construction boots. We wonder if any of those pieces once belonged to Madonna.
And we're curious whether Brahim's shirt once belonged to a pirate. The dancer, who's 29 years Madonna's junior, wore torn jeans and a jagged tee. Kids these days ...
Stories from around the Web