Posted on Wed Jul 24th, 2013 6:50am PDT By X17 Staff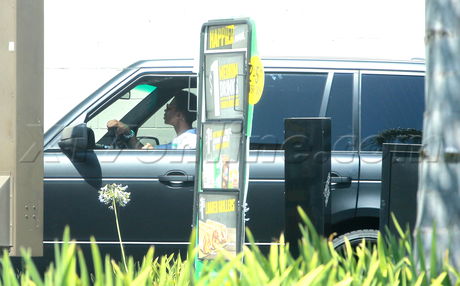 Before jetting off to Canada for a concert in Ottowa, Justin Bieber ordered fast food from the back seat of his Range Rover in Los Angeles on Tuesday. Getting a greasy burger isn't a crime...why so shy, Biebs?
But maybe he was hiding out because he was embarrassed about the recent remarks former pal Miley Cyrus made about him? "I told Justin to take a bit of time out and people aren't so obsessed with you and nitpick," Miley reportedly told
The Sun
after hearing that an allegedly intoxicated Biebs was caught on tape peeing into a bucket in the back of a restaurant.
"
He's still stupid though
," Miley continued. "But everyone does dumb stuff when they are messed up, and he's done dumb stuff. If it was your friend p*ssing into a mop box then you would be laughing, but because it's Justin Bieber, then it's really bad."
Wonder what Biebs thinks about Miley's comments? Yikes!
Stories from around the Web