Posted on Tue Sep 1st, 2015 2:29pm PDT By X17 Staff
Uh ... when you have the same extra-curricular activity as Janelle Evans, you should probably start worrying ...
Khloe Kardashian and the infamous
Teen Mom
both posted waist-training selfies in the past 24 hours and what's perhaps more disturbing than the fact they're binding their middle sections into a ridiculously-constricting corset, is the fact they're both posting photos of themselves doing it! I mean, if you bind your feet, are you gonna post a pic of it? What's next, selfies of celebs picking their zits? We just don't need to see this!
Ms. Evans apparently wore her trainer to the VMAs the other night, accompanying this pic with the caption, "Waist training every day of the week has been helping and helped my look at the VMAs with @waistedbykeke."
Meanwhile, Khloe wrote on her pic: "Im obsessed with the gym but a little extra help never hurt nobody @waistgangsociety and @premadonna8.' And 'Keep my waist snatched and posture perfect. Once you try it, you will become obsessed!!! Head over to whatsawaist.com the ONLY place to get your waist trainer!!! ❤️❤️❤️"
Uh, somehow I don't think I'm going to be obsessed with this. But then I'm also not obsessed with lip filler or makeup contouring. What do YOU think? Do you waist train?
Poll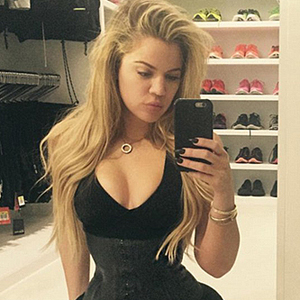 Do you think waist training is stupid?
| | |
| --- | --- |
| | Desperate people resort to desperate measures. Its dumb! |
| | If it works, more power to them! |
Stories from around the Web