Posted on Fri Nov 22nd, 2019 8:41am PDT By X17 Staff
It's most dudes' favorite day of the year after the Super Bowl, but it's OVER! The Victoria's Secret annual runway show is no more ... L Brands, the parent company of the lingerie powerhouse, announced on Thursday that it would no longer hold the fashion show this holiday season.
On a call with press, the company's CFO Stuart Burgdoerfer said of the future of the glittery, sexy event, "We'll be communicating to customers, but nothing that I would say is similar in magnitude to the fashion show." He went on: "We think it's important to evolve the marketing of Victoria's Secret."
In the post-MeToo era, the company announced in May that it would no longer broadcast the show, but in on yesterday's earnings call, it was the first time VS confirmed the total cancellation.
Consumers have come to see Victoria's Secret as an encapsulation of the very thing society is now working against -- the objectification of women as sex objects. Sales have been plummeting, there are a host of new competitors in the market, and the company's longtime CEO Leslie Wexner had STRONG ties to Jeffrey Epstein. It's basically all bad for VS right now, so what can they do to turn the company around? THAT remains to be seen ...
Poll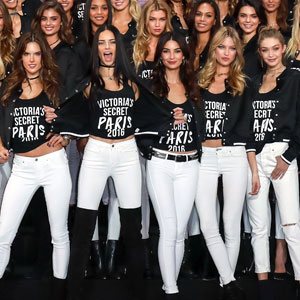 Are you sad to see the Victoria's Secret show go?
| | |
| --- | --- |
| | Yes -- it fueled by sexy holiday spirit! |
| | No way -- time's up! |
Stories from around the Web