Posted on Thu Mar 19th, 2020 8:08am PDT By X17 Staff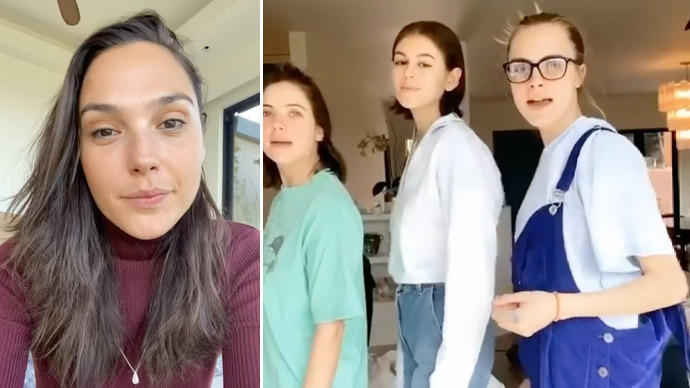 As the world copes with the ongoing coronavirus pandemic, many people around the globe are finding various ways of occupying their time. During her self-quarantine, Wonder Woman star Gal Gadot stumbled upon a video of a man in Italy playing trumpet for his neighbors from his balcony and was overcome with emotion.
Gadot says, "He was playing 'Imagine' and there was something so powerful and pure about this video". Feeling inspired, Gadot decided to combat her cabin fever by enlisting several friends to partake in a very touching collaborative rendition of John Lennon's 1971 classic. Gadot captioned the video, "We are in this together, we will get through it together. Let's imagine together. Sing with us ❤ All love to you, from me and my dear friends".
Those lending their voices include: Kaia Gerber, Cara Delevingne, Natalie Portman, Zoe Kravitz, Sia, Will Ferrell Kristen Wiig, Jamie Dornan, Amy Adams and many, many more!
Gadot gives a warm smile after concluding the song by singing the line, "And the world will be as one."
Gadot wasn't the only celebrity helping lift spirits, U2 rocker Bono debuted his new track, "Let Your Love Be Known" which is his first new song in nearly 3 years. The frontman performed the tune on his piano via Instagram after finding inspiration in a group of Italians who developed a bond through music while in quarantine.
Stories from around the Web